I have to say that Esoterica Occult Goods on 541 Rue Dumaine in the French Quarter of New Orleans was my favorite store. It's seamless blending of conjure with European witchcraft aesthetics created a really amazing feel that was quite authentic without all the tourist-cheese that haunts many of the other occult and Voodoo stores in New Orleans.
The aesthetic really won me over, as it had that lovely cluttered feel that any good active magical workshop has, with plenty of curios and arcane paraphernalia strewn about, but with a really nice vintage feel. If the village witches of yore could have set up shop in the middle of town, I imagine this is what it would have looked like. The day we were there, an employee sat in the window making mojo-bags, and all his ingredients were quite traditional. His silent, concentrated and industrious presence was very comforting and made me smile.
While the store and its decor was very dark, favorings blacks, forest greens, and ruby reds, the wide open windows let plenty of light in so that the feel was not oppressive at all. Just the kind of feel I enjoy. I don't like when they try to play on your fears by making everything theatrically spooky, and while I appreciate occult stores that go the opposite direction by making everything bright and shiny and non-threatening, I appreciate the more lush and sensuous and mysterious feel of dimmer storefronts. Esoteric really hit the mark!
While I had, sadly, already blown my budget for magical purchases by the time I happened upon this store, I was enthralled by the large selection of items that were obviously hand-made using authentic methods, and from what I could tell, authentic ingredients. They had the obligatory mini-mojo bags - very tiny like a marble wrapped in flannel - that were present at all the stores we went into. But they had a nice selection of oils, powders, dressed candles, and more. They carried a decent selection of good occult books, that - impressively - did not pander to the masses. Also lots of jewelry and curios that swayed tantalizingly from neat displays.
They were not catering to the Voodoo-tourist crowd, even though they certainly had some items that would have appealed to them, but to working occultists from many traditions. The store had a very fun vibe, and a great selection of products. When I get to NOLA again, I will make sure to purchase some of the oils and powders and give them a try.
Definitely find this little gem of a store if you're in the area!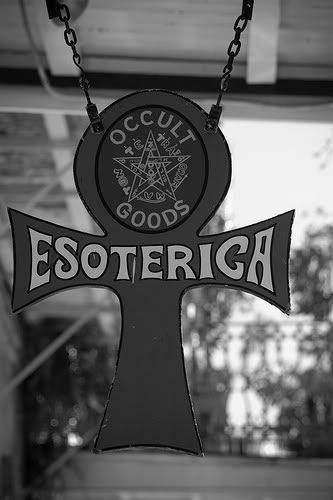 Esoterica Occult Goods
541 Dumaine Street
New Orleans, LA 70116
504-581-7711
http://www.onewitch.com/